Roll over image to zoom in
Description
Industrial Bucking Machines by Harvest Supply Canada
Our bucking machine can be customized for speed and feed rates. Industry leading buck rate per hour rating. All harvesting machines can be custom engineered and designed with different combinations to suit different harvesting needs.
The fastest, safest & quickest bucking machine on the market 
Features:
Bucks Wet or Dry Product
Harvest Up To 1200 lbs In An 8 Hour Shift
Super Easy Clean Up
All Major Components Made of Food Grade 316 Stainless Steel
All Bearings are non grease. Never worry about having to grease the machine
Durable & Long-Lasting Electromagnetic Powder Coated Support Frame
Extra Heavy Folding Stainless Steel Shelves on Sides of Machine for Your Bins
Control Boxes Are All Waterproof
Extremely Versatile- Use Indoors or Outdoors
Note: All spare and replacement parts are kept in stock at our facility to provide fast and reliable maintenance and repair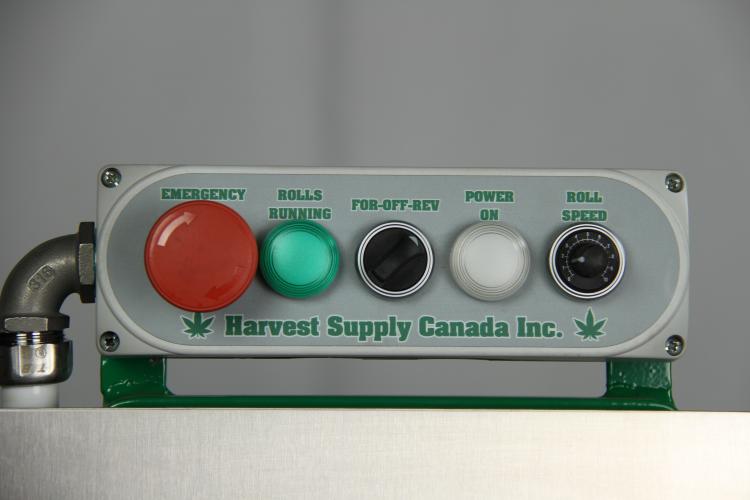 Simple to control:
Control Boxes are all waterproof and have Emergency Kill Switch in the middle of the machine for operators on both sides to have access to.
"We have reviewed and trialed the Harvest Supply Canada Bucking Machine and were very impressed. This machine is extremely heavy duty and very easy to clean. We had 2 people bucking at one time on the machine with no problems at all. The quality and price are excellent."

Brian Lagerwerf - Turning Leaf Greenhouses

"The bucking machine is very well built, and the adjustable speed is useful for different strains and dryness levels of flower. It is very quiet and overall efficient as you can have 2 employees working at the same time."

Mitch Clement - Presiden, MTL Ca***bis
⚡
Have a question about this product?
⚡
Payment & Security
Your payment information is processed securely. We do not store credit card details nor have access to your credit card information.